VLN Champion Brad Philpot to Make BTCC Debut with PMR at Season Finale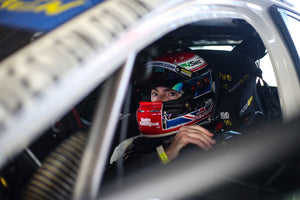 Power Maxed Racing have today announced that Brad Philpot will contest rounds 25, 26 & 27 of the 2020 KwikFit British Touring Car Championship on the weekend of November 15th.
Philpot, who tested one of PMR's race-winning Astras in October, will have his first competitive BTCC drive at Brands Hatch during the 2020 season finale.
The 34-year-old Bedfordshire racer, whilst not a household name in the UK, has earned a reputation as a strong front-wheel-drive racer in Europe, competing for Peugeot on the famous Nürburgring Nordschleife with a career highlight of back-to-back Championship titles in the Peugeot 308 Touring Car in 2018 and 2019.
Beginning his touring car journey in 2013, Brad entered Peugeot's talent search for international drivers to pilot the all-new 208 in the Nürburgring 24 Hours. Beating a number of high profile drivers, Philpot took his place in the factory squad with the three Peugeot cars securing a podium lockout in the race.
In 2015, Brad won the ROC Factor competition and secured a wildcard entry for the Race of Champions at the London Olympic Stadium where he triumphed over the likes of Sebastian Vettel and Jenson Button in the Celebrity Skills Challenge, before making his way through to the second round of the main event.
Joining the Team Altran Peugeot squad for the 2016 edition of the Silverstone 24 Hours, he returned to the familiar cockpit of the Peugeot 208 and led his team to victory at his home circuit.
Adam Weaver, Team Principal – "Brad certainly has the pedigree necessary to challenge a number of BTCC drivers once he gets some experience under his belt, and has a number of front-wheel-drive titles to his name. We've been limited by the amount of testing he's been able to cover in the Astra, but we know the car's fast and has given everyone who's driven it this year the opportunity to push forward in what's known to be one of the toughest championships in the world. We're looking forward to seeing what he can do at Brands."
Brad Philpot – "I've had my sights set on BTCC for a long time and I'm delighted to be making my debut with such a well-respected and successful team as PMR. 
"It's great to be racing back in the UK at Brands Hatch for the season finale, and I'm confident we can deliver a strong performance to round off the year on a high.
"I'd like to thank Adam Weaver for this exciting opportunity, as well as my personal sponsors m4em, NU squared, 24 Security, Swedish Kitchen, X Kart, Nathan Godby, Just Ask Paul & 20NINE sports management for their ongoing support."
Fans will be able to watch Brad race at Brands Hatch live on ITV4 on Sunday, 15th November.