Wind in the sails for CarStore PMR heading to Oulton Park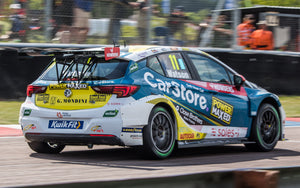 CarStore Power Maxed Racing makes its annual visit to Oulton Park's Island circuit in the Kwik Fit British Touring Car Championship this weekend [17-18 June] looking to extend a strong recent run of form.
The Bidford-on-Avon outfit stand on the cusp of a return to the overall podium in the UK's premier touring car series, after a continued string of front-running performances, including last time out at Thruxton.
The team's trio of Mikey Doble, Andrew Watson and Aron Taylor-Smith put all three Vauxhall Astras inside the top ten around the high-speed Hampshire venue in qualifying, from which Doble scored a Jack Sears Trophy win and Taylor-Smith a notable hat-trick of top-ten finishes in race trim on Sunday.
A driveshaft problem on the grid consigned Watson to a pit lane start, but the Northern Irishman put in a gutsy showing to claw back some of the deficit across the three races, culminating in points in the finale.
It marked another step on the team's gradual return to front-running form in the BTCC and cemented their status in the race for both the Independent Teams and Jack Sears Trophy championships, with the 2.2-mile Island layout at Oulton Park set to host the next chapter this coming weekend.
Rapidly changing gradients and tight, technical corners are the name of the game at Oulton, all traits which should play into the Astra's favourable chassis set up.
It's a circuit that holds fond memories for Taylor-Smith in particular, as the scene of his second career BTCC win back in 2014. Doble also has a strong recent track record in Cheshire, with two wins as part of his title-winning Ginetta GT5 campaign in 2022.
Tyre strategy will be key once again this weekend, with the 'Soft' and 'Hard' Goodyear compounds available. Drivers will use the softer rubber in two races, with the more durable Hard tyre the 'odd one out'.
Following two practice sessions, competitive action begins with qualifying live on ITVX at 15:40 (all times BST) on Saturday afternoon.
Sunday features the usual bill of three televised races, with Race 1 at 12:17 live on ITV1. The broadcast switches to ITV4 for the remaining two contests, with lights out at 14:40 and 17:25 respectively.
Andrew Watson (#11) said:
"I'm really looking forward to Oulton Park this weekend. As a driver, it's one of the most exciting circuits we go to on the calendar. There are some great undulations and you've got to be on your game to be quick around there.
"We haven't tested there, so we'll have to find our feet a little bit in practice, but the car is in a fairly good window, we just need to make some adjustments from Thruxton, which is a very different type of circuit.
"Every weekend I'm learning, and the team are making improvements. I'm loving the championship and having a great time and looking to score some nice points this time out."
Aron Taylor-Smith (#40) said:
"Heading to Oulton, we have our heads held high after such a strong team performance in general at Thruxton. When you look at our results this year, each weekend we've been gaining more and more momentum.
"In my opinion, this championship is all about having that momentum. So, to be heading to Oulton – a track where I've won in the past – is a really nice feeling, especially off the back of a strong Thruxton for myself, personally.
"I think we can capitalise on the strength of the Astra's chassis around the tight, twisty sections. Having the weekend on Soft tyres, with the option being a Hard, will really spice the order up a bit and could play to our favour – we've had great pace on both compounds so far this year.
"The aspiration is to get to the very front, go a few better than Thruxton and put on a good show!"
Mikey Doble (#88) said:
"I'm feeling extremely positive heading into Oulton Park this weekend. The team is in a great place at the moment and our confidence is high after three points scoring finishes at Thruxton last time out.
I took two victories at Oulton Park last season, and it is a track I always enjoy racing at. I am looking forward to seeing if we can emulate our outstanding qualifying performance from the last round and prove ourselves as regular top ten runners.
We are currently sitting third in the Jack Sears Trophy, just 11 points back, so one of the main focuses on my side of the garage will be to close the gap to the front"
Martin Broadhurst, Team Manager said:
"There are certainly a lot of inherent traits in the Vauxhall Astra as a car that should be well-suited to Oulton Park as a circuit, which is a good baseline to work from.
"As Andrew highlighted, we didn't visit Oulton during pre-season, so a lot of free practice will be spent fine-tuning the car to give all three drivers a good shot in qualifying.
"From there, they've shown plenty of times so far this season that they can get their elbows out and mix it with the best. Momentum is absolutely key, and we've got it on our side at the moment, so it would be great to get that next milestone on the journey back to the front ticked off with a podium."
Adam Weaver, Team Principal said:
"I think it says a lot for where the car is at the moment and how the team is performing that our drivers turn up to each meeting in such a positive frame of mind.
"Oulton Park hasn't always been the happiest hunting ground for us as a team in the past, but with every race meeting this year, we're unlocking more and more performance, so there's every chance that can switch around.
"It's all part of a bigger process. I'm sure it'll be a weekend to enjoy, and we can't wait to welcome all of our valued partners and guests trackside to soak it all in with the team."