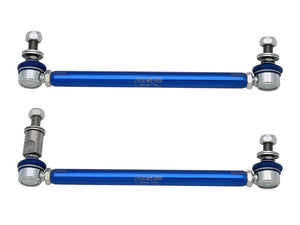 SuperPro Advanced Suspension Components are designed with the performance user in mind. The vast range includes suspension arms with adjustable/modified caster/camber settings, adjustable anti-roll-bar (sway bar) links and anti-roll bars (sway bars), all of which have been rigirously tested and proven.
SuperPro has the largest range of aftermarket polyurethane bushes available and are currently manufacturing nearly 7500 products at their own facility in Brisbane, Australia.
The benefits of using aftermarket components is that each product is designed from the ground up to exceed standards as a standalone component, rather than as a subordinate component of a larger module (as seen in OE engineering). SuperPro embraces the concept of developing a higher quality, quieter, longer lasting alternative to standard rubber bushings.
Fitting an Advanced Suspension Component kit, or individual part to your performance car or off road vehicle will provide:

Better road-holding
Constant steering geometry
Increased tyre life
More responsive steering
Longer service life of suspension components
No increase in Noise, Vibration or Harshness (NVH)
SuperPro Advanced Suspension Components are available individually or in kit form for multiple vehicles. Please contact us for price & availability.
They can completely transform the handling of your vehicle, and should be combined with fitting & professional setup by PMR's Specialist Mechanics.