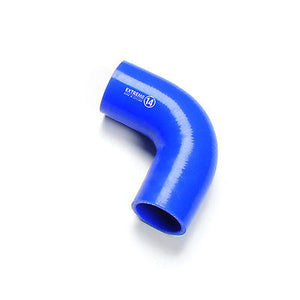 The newest name in silicone hose, but the one with history and heritage, having worked in the motorsport silicone hose industry for over 15 years and having been involved with cars for over twenty years.
We've had experience of the painful search for silicone hoses; do you choose high quality and wait weeks and months, or do you have cheaper poor quality but quick delivery? Well Extreme14 decided that you should be able to have both, so made it their mission to be able to offer high quality hoses and quickly, so your search for a silicone hose supplier is over.

PMR have worked with Extreme14 on the Vauxhall BTCC project since 2018, supplying all intake and cooling hoses on the race winning cars.
Extreme14 hoses are available in black, blue or red, in a huge variety of sizes and fitments. From 6.5mm to 115mm internal diameter, with reducers, 45/90/180 degree bends and a multitude of other fitments, all available in the UK.
Please contact us for price and availability.