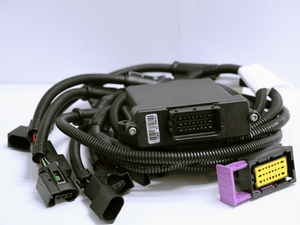 JFA Tuning's latest plug & play ECU Tuning Box for the Toyota Yaris GR 1.6T – 261HP. With an ever growing list of new vehicles that simply can't be tuned direct to the ECU, JF Automotive have invested in alternative solutions. This Adaptive Tuning Module can be installed and running in less than 30 minutes and removed easily leaving no trace.   
Plug & play instal
Can be removed before visiting dealer
Installed in less than 30 minutes
Dyno tested tuning
Email and phone support
Multi-channel system
Engine Protection timer
Adaptive Smart Sensor with data memory
Why Do I Need a Remap?

Manufactures sell vehicles with a standard set of map files on the ECU, as they are shipped around the world, meaning they have to deal with different climates and a magnitude of fuel types and quality - this is why the manufactures set a standard map that will simply work anywhere.
Power and fuel economy is also limited on these maps because of market placement and sales tactics. For example; BMW needed to limit the power of the 335D, just so its pace isn't that of an M3.
Performance ECU tuning is essential for those drivers who feel their vehicle is not living up to its full potential. By increasing the power of your vehicle, you are providing yourself with a more pleasurable car to drive, that puts that smile back on your face.
Whether the gain is 5 BHP on your 1.4 Ford Focus or 55 BHP on your BMW 335d, when you choose a JF Automotive ECU performance map, you will wonder why you didn't choose us sooner!
Who Are JFA?
From humble beginnings initially tuning vehicles from a van, JFA is soon to celebrate its 10 year anniversary. Now in a purpose built, 1,400sqft facility with a 2000hp Mustang dyno at centre stage, JF Automotive is one of the most reputable tuning companies in the UK, with expansion iminent.
JF Automotive remaps are designed by experienced, in-house software engineers using the latest technology and facilities, always taking into account car engine condition and mileage. JFA also has an expanding dealer network that provides custom calibrated tuning files to clients across the world, over 300 tuned files month in fact!
JFA have worked on a host of prestige vehicles; from Oakley Design's Bugatti Veyron, 730HP Mclaren's and 780HP Audi R8's just to name just a few. Alongside this they have had a great selection of development cars, including the Golf GTD, Golf R, Audi RS3, BMW M3, Audi RS4, Abarth 595, Tesla Model 3 Performance and Toyota Yaris GR.