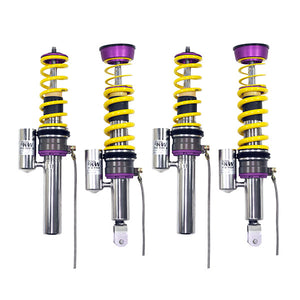 This option is for the professional racer or serious track day enthusiast. Please see KW Coilover Suspension for fast road & track day setups.
For many years, the KW automotive GmbH is the epitome for premium products in car tuning and automobile refinement. KW offers its customers the largest suspension programme world-wide. The entire assortment – from springs over sports suspensions to coilover suspensions "inox line" in three damping versions – such a variety of products is unsurpassed on the market.
As one of less than 5 trusted KW Motorsport Centres in the UK, PMR work closely with KW on multiple projects, and our experienced motorsport engineers will work with you to find the exact solution required. Each KW Motorsport Damper is built totally to order, to suit vehicle, driving style and setup, and we provide a full consultancy service as part of the process.

As a KW Motorsport Centre, we also have the ability to service and repair all KW Motorsport units. With motorsport being incredibly hard on dampers, it's recommended for all KW Motorsport Dampers to be inspected at least once per season.
Units are available in multiple formats for thousands of vehicles, so please enquire for prices and details.
Price for fitting and setup varies. Please enquire for more details.