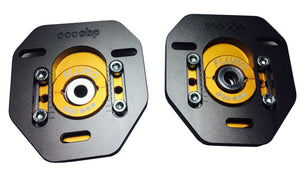 One of the latest additions to the obp Motorsport product line up is their range of Competition Alloy Top Mounts. Manufactured from Aircraft Grade T6061 Aluminium, these are specifically designed for easy camber adjustment, so you can adjust exactly to your required specification.
These are perfect for race or competition drift cars, allowing you to fine tune your setup.
Fitting and setup service available.
Product Information:
Bearing: FLURO PTFE
Fitment: BMW E36 (all variants)
Extras: 10mm, 12mm, 14mm Inserts Included
FLUROTM36F