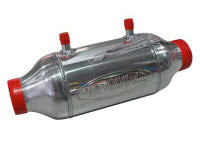 PWR provides world class cooling solutions by manufacturing high performance alumimium radiators, intercoolers and oil coolers for race cooling solutions to leading race categories and teams such as F1, NASCAR, V8 Supercars, DTM, BTCC and World Rally Championship, PWR is recognised as a world leader when it comes to high performance cooling.
As a team, we have only and will only use PWR intercoolers. Following rigorous testing, we believe them to be not only the most efficient and best performing, but also of unrivalled quality.
Barrel Type Chargecooler Liquid to Air Intercooler UNIT ONLY - 5" X 8", 63mm charge outlets, 19mm water outlets

Please enquire before purchase for stock - estimated shipping on non-stock parts is currently 4-5 weeks.
Part number - PWI5884