A Jack Sears Win Before Lunchtime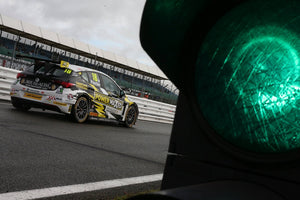 Following Race 1, which was red-flagged as the result of a crash between Burns, Collard and Jordan, the Power Maxed Race team are pretty optimistic about the rest of the day here at Silverstone.


Despite not quite getting the results they had hoped for in Qualifying yesterday, and therefore starting towards the rear end of the grid at the start of Race 1, Rob "Huffy" Huff, Step-In Driver for PMR, had muscled forward from 26th to 24th by Lap 2, ahead of Epps, and Senna Proctor, Racing Driver for PMR, was climbing from his new position in 26th, ahead of Depper, Simpson and Burns, and eventually came out in front of Huff in the commotion of Jake Hill leaving the track in Lap 3, putting Proctor in 23rd and Huff following swiftly behind.

By Lap 6, the rain had started, and there were mutterings in the garage about tyre changes. Huff was informed that he was able to change to wet tyres if necessary, but being the hardcore driver that he is, he persisted on the slicks, managing the pace accordingly.

"The car is good, we're losing it on the exit but that could be the rain. I'm generally very pleased with the Astra but it's the other drivers I'm worried about; all focused on what's happening in front of them and not thinking about what's happening behind them." – Rob "Huffy" Huff, Step-In Driver for PMR

By Lap 7, Proctor had moved forward to 20th place, followed by Taylor-Smith and Smiley, who Huff followed shortly after in 23rd place, taking Smiley in Lap 8 to make 22nd.

With Matt Jackson and Simpson out, by Lap 10 Proctor was 15th and Huff 16th, trying to edge past Smith throughout Laps 10-15 but with little success despite the team effort.

In Lap 16, Collard's BMW was hit by a swerving Subaru at the exit of Copse Corner, causing it to spin across the grass and out onto the other side of Maggotts Corner, the kafuffle nudging the back of Huff's Astra but thankfully causing no more than cosmetic damage to the rear bumper. More significant damage was caused to the BMW of Collard and the Passat of Burns.

Subsequently, the safety car was brought out so Collard's car could be salvaged, and by Lap 19 (6 laps later due to safety car lap rules), the red flag waved, setting both Proctor and Huff up nicely to give the Silverstone circuit a real taste of what the Astras can do.

The Jack Sears Win
Despite that fellow rookie Whorton-Eales finished ahead of him in this race, Proctor takes home the Jack Sears Trophy for the Championship, as he is now over 120 points in the lead with only five rounds to go and therefore a maximum of 100 points for the taking.

"We made up a lot of places and the car is now where I was hoping it would be yesterday ready to climb some more places. Oh and the Jack Sears win is fantastic." – Senna Proctor, Jack Sears Trophy Winner and Racing Driver for PMR

Senna is very matter-of-fact about these things, but no doubt he will be celebrating tonight.
Photo © Jakob Ebrey.

For press enquiries, please contact:
Phoebe Kingdon
Power Maxed Racing
Tel - 07714 669318