Qualifying Summary: Brands Hatch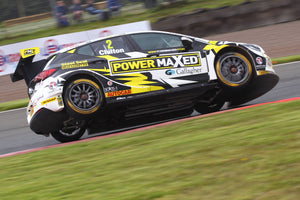 Both Proctor and Chilton left the garage for the final Qualifying of the 2017 season of the BTCC with slicks on their front-wheel-drive Astras in the hope that the light rain would cease before long.

After just a couple of laps, Tom Chilton could be heard over the team radio asking for wet tyres as the light rain was beginning to accumulate and reduce grip on the track. The newly decorated, monstrous green-bonneted Astra pulled in and was raised for the tyre change just as Cole came off the track, presumably due to the same conditions which led Tom to make his decision on the tyre change.

Following an incident with Brett Smith, the red flag was brought out, so Proctor followed suit and pitted. Once the red flag incident cleared both cars were back on the track on the wet tyres along with murmured guesses that they would be back on slicks before the end of the Qualifying session.

Sure enough, the Astras had completed three laps total before they were changed back to slicks. The issue with such frequent tyre changes is that the wet tyres and the slicks have different thicknesses, meaning that the ride height needs to be adjusted after every change.

Just as the team finished up putting the original tyres onto Proctor's Astra, Cook's MG came off the track. This caused another red flag to be announced just as number 18 was being pushed out of the pit, allowing just enough time for the team to communicate accordingly and bring the beast of a Vauxhall back in.

Eventually the red flags were put away and the Astras made it back out onto the track for a continuous run. Symbolic of the number 1 which Tom is aiming for, with 11 minutes to go he was in P11 with a time of 1.31.911, whilst Senna had achieved a best lap of 1.33.062 putting him in 22nd place.

From there, both drivers performed admirably, climbing to 12th and 13th place with Chilton's fastest lap of 1.31.74 and Proctor's 1.31.79 respectively with nine and a half minutes to go. Goff in first place was less than a second ahead of both with a time of 1.30.802, showing just how competitive and well-matched the competition in the BTCC really is.

With just over 8 minutes to go, Chilton changed to new front tyres, followed swiftly by Proctor – one of the disadvantages of driving front-wheel-drive vehicles in the BTCC on a standard tyre. In the meantime, Proctor had achieved 9th place with a time of 1.31.46.

With just 5 minutes to go, Proctor had held P9 whilst Chilton had moved back to P15 in his absence from the competition. With 3 minutes to go, Proctor had been pushed back to P10 by Butcher and Chilton was back in P18. It wasn't looking hopeful.

With 30 tiny seconds to go Chilton pushed the Astra and achieved P12 with a time of 1.31.484. Good news though this was, both drivers still had a final lap to play with, and Chilton made it his best of the day, finishing in P5 with a fantastic time of 1.31.283 putting him a place ahead of Neal's Honda for Race 1 tomorrow [Sunday 1st October], whilst Proctor followed behind in a very comfortable 13th place.

This makes for a very interesting race tomorrow morning, and a very exciting race weekend in general.

"I was really happy with that, the last lap was perfect and resulted in our highest Qualifying all season. It's very positive for tomorrow," Chilton reviews, "The circuit was quite greasy and the tyre changes were frequent but the team were great at working really hard to get this done and make all of the necessary adjustments every time.

"Oh, and it was nice to bring the Astra home in front of Neal's Honda, something Huffy wasn't able to do last time out," Tom added, with a wink.

"It was a good Qualifying. The aim was to finish in the top 15 so 13th is excellent, and it puts me closer to the battle for top 10 tomorrow." – Senna Proctor, Racing Driver for PMR

So, the aim for PMR this weekend according to Tom: "This puts me in a great position to go for three top 10 finishes this weekend; I'm still going for that win and I'm going to have to be very intelligent in the way I drive tomorrow."

"I'm really proud of the way both Senna and Tom drove in the final Qualifying of the 2017 season. If they drive like that tomorrow, there is sure to be a podium finish and plenty of celebrations." – Adam Weaver, Team Principal for the Power Maxed Racing Vauxhall BTCC team.
For press enquiries, please contact:
Phoebe Kingdon
Power Maxed Racing
Tel - 07714 669318