Alex Rullo To Test BTCC Waters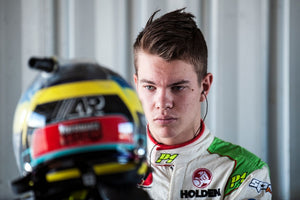 Australian V8 Supercars racing prodigy Alex Rullo is set to test one of the Power Maxed Astras at Brands Hatch next Thursday (23rd November 2017).
In 2017 at just 16 years of age Alex became the youngest driver in Virgin Australian Supercars Championship history.

Rullo started his professional driving career with a bang at age 14 when he started driving in the V8 Touring Car National Series, achieving a win in only his second event, achieving four total wins out of fifteen resulting in a team second place over the entire season.

Now, considering his plans for next year, and with PMR selecting drivers for the 2018 season, it's a matter of testing out the car, talking to the team, and as always, it's a conversation which goes both ways.



Alex will be travelling to Brands Hatch to meet the Power Maxed Racing team and one of the Astras to get a feel for a British Touring Car, learn more about the upcoming developments and get to grips with the driving style needed both by the Astra and by the BTCC.

"It's a long way to travel for one day, so naturally I wanted to test with a developing top team, I have thought long and hard about my options for 2018, the BTCC is an incredible series and could be the way to go for us in 2018, so when we contacted Adam Weaver and then he subsequently offered me the opportunity naturally I jumped at it," comments Rullo.

"Any testing days done give us further information on the car, and allow us to start thinking about what kind of drivers we might want to bring in and set up required to help us get pole positions and hopefully therefore more podiums next year." – Martin Broadhurst, Team Manager for Power Maxed Racing

"I am really looking forward to meeting with Alex and his family at the test, along with his Manager and to of course see how he gets on in his first outing in a BTCC car, as people will know we are gaining a good reputation for bringing young talent to the championship, securing the Jack Sears trophy twice in 3 years, maybe we can do it again in '18," said Adam Weaver, Team Principal Power Maxed Racing.
Photo © Christian Hartung

For press enquiries, please contact:
Phoebe Kingdon
Power Maxed Racing
Tel - 07714 669318