Alex Rullo Considers BTCC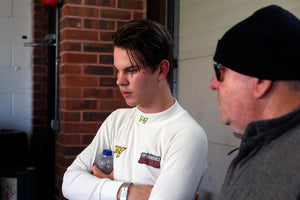 17 year-old Alex Rullo, Australian V8 Supercars driver, spent the day at Brands Hatch with Power Maxed Racing (Thursday 23rd November 2017).

The Australian made the flight over with his family to decide whether to make the commute to the UK in 2018 for the next season of the BTCC, and wanted to test drive one of the rapidly-developing Astras as part of his decision-making process.

The team were all very impressed with Alex, and he approached the day with great maturity.

The BMW of Colin Turkington was also out on the track, who Alex matched for pace all day. Quite an achievement for his first time in a BTCC car and swap from RWD to front.

"The weather in the morning wasn't great but fortunately the Astras are front wheel drive," Adam Weaver, Team Principal of Power Maxed Racing comments. "Soon after though, it cleared up and led to a very interesting day of testing and talking."

"I've got a lot to do now. The BTCC is a real contender for me. We need to go home and speak to our sponsors and see if they want to come on this journey with us. I really hope they do." – Alex Rullo, Racing Driver

"He had a different driving style borne of the different race series which he's been part of so far. We had to make some tweaks here and there to help give him the opportunity to feel how the car could work for him," reported Martin Broadhurst, Race Team Manager for Power Maxed Racing.
For press enquiries please contact:
Phoebe Kingdon
Power Maxed Racing
T - 07714 669318