Adrian Flux "Fuelling Around" Returns for Second Series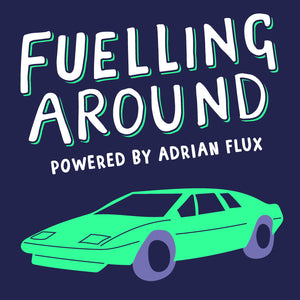 Award-winning motoring podcast Fuelling Around will return for a second series this month.
Co-hosts Dave Vitty and Jason Plato will bring more laughs and tales of all things automotive when eight more celebrities jump in the passenger seat of their popular show.
TV presenter and celebrity Vernon Kay, BBC Radio 1 DJ Melvin Odoom, racing driver and Fifth Gear presenter Vicki Butler-Henderson, renowned Michelin-starred chef Tom Kerridge and TV presenter and Formula E pit-lane reporter Nicki Shields are already confirmed guests as a mouth-watering line-up starts to take shape.
Three yet to be confirmed famous faces will complete a stellar list of names that have been lined up to chat about cars and their careers when the podcast - powered by specialist insurance broker Adrian Flux - makes its comeback on April 21.
Radio presenter Vitty said: "Who'd have thought that two blokes sat in their respective man caves often with an occasional beer in hand, talking cars with a load of their well-known petrolhead mates would be so popular?
"I'll be honest and say that I'm surprised we got a second series. Delighted and surprised, in fairly equal measure.
"Well, you can't stand in the way of ratings though, and it would appear that we've inadvertently become a global phenomenon at the first attempt. I suppose therefore, it would be rude of us not to return for at least one encore, so we're doing just that."
Olympic cycling hero Sir Chris Hoy, celebrity chef James Martin and actor and 2019 Strictly Come Dancing champion Kelvin Fletcher were some of the household names who appeared during the first series.
With almost 65,000 listens across podcast platforms and YouTube, Fuelling Around also received a five-star rating on Apple where it was ranked the number one automotive podcast.
The humorous chat-show style offerings earned a bronze award in the best podcast category at the 2020 International Content Marketing Awards.
"People say that being a good-looking international racing driver is the best job in the world," joked Plato, a British Touring Car Championship legend and TV personality.
"And they'd be right, but having a job that involves laughing out loud with some brilliant guests and talking about cars, is a very close second I think.
"Ordinarily, the hardest thing about making that difficult second series is finding a guest list as strong as the first, but we've somehow managed to better it! Is it the best job in the world? No, not quite, but it's the most fun you can have with your helmet off."