Heart in Mouth Moments at Oulton Park Island Circuit.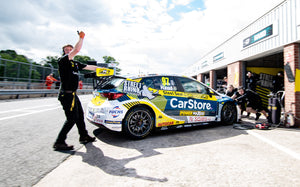 Heart in Mouth Moments at Oulton Park Island Circuit.
This weekend held rounds ten, eleven & twelve of the British Touring Car Championship at Oulton Park Island Circuit. The 2.23 mile long track did not disappoint with an action packed couple of days and surprisingly with the sun joining all the teams and fans for the most part of the weekend, which kept all sessions dry for the drivers.
On the Saturday morning we saw free practice one and the first couple of laps both drivers were scrubbing in the tyres, which meant a lot of trips in and out of the pits and changing of wheels. The clouds had rolled in at this point cooling down the track for the drivers, so lots of cross overs were needed to get the heat into the tyres. By lap 5 the drivers were setting times and Hand completed a 1.28.850 on the next lap he had reduced his time by one second, 1.27.884. Creesy securing a slightly faster time with a 1.27.688 that resulted in a P.10 in the session so far.
By the end of the forty-minute session and countless pit stops for both drivers, Hand #97 finished in P.11 with his best lap time of 1.26.527 and completed nineteen laps. Creesy #777 finished in P.19 with his best lap of 1.26.882 and completed seventeen laps overall.
Later in the afternoon the CarStore Power Maxed drivers had free practice two, which the sun decided to return and shine on the session. Again the first few laps the team were scrubbing and getting heat in tyres. After ten minutes both Hand #97 and Crees #777 set laps hitting a 1.27.909 and Hand hitting a faster time of 1.27.092. Both drivers had another pit stop each with tyres being changed however with only ten minutes left of the session, unfortunately Creesy went off at Cascades and ended up returning to the pits due to damage. In the twelve laps Crees completed his best time was 1.27.408. Meanwhile Hand #97 finished twenty laps in total and secured P.13 with a 1.26.353.
Mid- afternoon the team all fired up and ready for qualifying, after a mad rush to get Creesy's car fixed due to the off in practice two. The mechanics had worked their magic and got the car fixed in under two and a half hours.
The session started and Hand in the first few minutes hit P.2 and then P.3 with a 1.26.979 and 1.26.421 and Crees also achieved an amazing P.7 with a 1.27.387.
Seventeen minutes left to the session Creesy #777 came into the pits for a tyre change, then followed by Hand for a new set of tyres. Both out on fresh rubber the boys excited to set flying laps. Unfortunately that didn't go to plan, with a couple of red flags, luckily time got added on to the clock, for when the session restarted.
The increased time; ten minutes, allowed Hand #97 to complete a warm up lap then immediately return to the pits for a final box and two new front tyres which resulted in him securing his best lap time of 1.26.428 and P.21 and Creesy finished just in front of Ash with a 1.26.307 and P.20. Not really where both driver's had wished or expected to finish however it meant on race day they had nothing to lose and knew it would be a good battle racing from further back in the pack.
The Sunday morning saw the sun beaming on the team and track once again, with the anticipation building during breakfast everyone was ready and excited to get the day under way. Due to a local church related delay to proceedings we were ready to start at 12.20 but during that time the drivers were busy with live q&a's in our packed hospitality and the fan's favourite; the pit lane signing. Thousand of fans came to join us at the signing.
Early afternoon arrived and the grid walk opened, all the VIP guests entered the track ready to see for the first time that day the cars roll around and get ready for the lights to go out. The race was due to have 15 laps around the Cheshire based circuit and our drivers were starting from P.20 and P.21.
Lights out and Hand #97 made an unbelievable start jumping up four positions in the first lap, Crees #777 remaining in P.21. Hand continuing to climb up the order and up into P.15 however in lap five of the race a safety car was needed due to a car stranded near the pit lane entry.
Four laps behind the safety car bunching the pack back up and drivers weaving from side to side trying to keep heat in the tyres, on lap nine the safety car returned to the pits and we were back racing with eighteen laps in total now.
The next few laps had us on the edge of our seats both drivers climbing up the grid and making great passes Crees #777 up to P.14 and Hand #97 just behind in P.15. Until on lap eleven when Hand had to retire due to an overheating engine caused by no air to the radiator due to an abundance of grass stuck in the ducts after several little excursions across the grass. For added drama this resulted in grass burning on the brakes once he stopped.
Hand being the Vettel of British Touring Cars and helping the marshals with the situation to try and get a green flag as quick as possible. The race continued and with four laps left we saw Crees #777 still competing with an impressive six position jump, up into P.14 finishing there with a best lap time of 1.27.428.
With only an hour and ten minutes until the next race, the Carstore Power Maxed Racing mechanics worked extremely hard through the lunch break to get Hand's car back out for round 11 of the British Touring Car Championship and with three minutes left until the drivers were meant to be on grid Ash was strapped into the seat; super impressive work by the team.
Unfortunately the timetable was slightly delayed because of red flags in other races, the grid walk for race two was cancelled as the media team were on a tight schedule due to the championship being aired live on ITV so as the driver's lined up on grid only with the mechanics, Creesy #777 started on row 7 next to Hill #24 and Hand #97 on row 14 next to Chilton #3; one of Power Maxed Racings previous drivers.
Luckily for our blood pressure the race was a good, clean session for both our drivers. Completing all fifteen laps and increasing positions to P.13 for Crees with a 1.27.067 and P.22 for Hand securing his best lap time of 1.27.216 for round 11. Resulting in both cars coming back to the garage with minimal work required which meant lunchtime for the mechanics. Overall it was great race and set the driver's up nicely for final round of the day.
With the weather confused as to what it wanted to do, slight showers started as the VIP guests waited to enter the grid for the final round. The umbrellas up and everyone huddling under them and within the ten minutes in took the drivers to join the guests on grid the rain had stopped, resulting in both driver's going out on slick tyres.
Engines ready, 5 green lights and acceleration from all twenty- nine drivers with BWM leading the pack however in the first lap the action was in full force with Hand #97 steaming through from P.22 up thirteen positions into P.9, the garage roaring and jumping with celebration. However in lap two the front of the pack began pushing and unfortunately there was three-car pile up which very unluckily involved Creesy #777 causing him to retire. Thankfully all the drivers involved including previous Power Maxed Racing driver Lloyd were okay however hospital checks had to be made due to the force on the crash. Creesy being the great sportsman and loveable guy he is, checked on the other drivers and supported Lloyd until he was taken to the medical centre.
The rest of the grid under safety car until lap five when the green flags were waved, Ash had made up one position during the carnage of the crash and luckily made it through, up in P.8 overall and P.1 in the Jack Sears championship. In the final two laps Morgan #33 stealing P.8 from Hand, which meant he finished the dramatic, eighteen lap race in P.9 with a best lap of 1.26.672 only three seconds from the race winner.
Overall the weekend definitely had it's highs and lows but most importantly everyone came home safe, yes the team have a busy week ahead working on both cars ready for our next northern adventure up to Croft in two weeks time but they will deliver as they always do.
After rounds ten, eleven and twelve the Carstore Power Maxed Racing team are in ninth in the BTCC Teams Championship. In the Independents trophy Crees is eighth with Hand right behind in ninth and in the Jack Sears trophy Hand is third.
Team Principal: Adam Weaver.
"We really aren't making things easy for ourselves are we!? We need to master qualifying, and making sure we start the weekends where we are currently finishing them. We are showing that we can fight our way to through to the top ten with drivers consistently finishing there, certainly by the last race of the day. If we could start there our weekends are likely to be much better and hopefully we will avoid so many incidents and so much damage. We will keep working hard and I have no doubt that will pay off soon enough."
Team Manager: Martin Broadhurst.
"I would like to say a big thanks to the team as they have had to dig deep once again to repair all of the damage we picked up through various incidents but the cars were always ready for the next session. I feel we didn't quite get the rub of the green on Saturday with Michaels damage, and then the red flags in qualifying meant we couldn't exploit the lap times.Race pace was good and it is so difficult to gain places at Oulton Park, a couple of DNF's have hurt our challenge in the teams championship but Ash's top ten in race 3 meant we finished on a positive note."
Michael Crees #777.
"On Saturday we were losing our pace, we made it difficult for ourselves, but I'm quite satisfied with what we did on Sunday, coming back with solid performances and some good overtaking. We had another impressive start in race one, in race two we held the pace and held our own – on pace we should be there. Then we got caught-up in the incident in race three, which was unfortunate, nothing I could do about that, and I'm just glad everyone was OK and walked away from it."It's such a shame [race three] because we just need to have that little bit of luck on our side. We've missed out on three races now, and we've obviously missed those points. When we have finished this year we've more or less always been in the points, so onto Croft next and see what happens there. Hopefully we can have a completely clean weekend and get more points on the board."
Ash Hand #97.
"Looking right at the first session at Oulton park we had a very positive start, good pace in testing and good overall balance, driving well in a car that feels good is a must around the super tight an bumpy Oulton park circuit. As the weekend progressed our pace in qualifying didn't unfortunately. We had to dig deep to find extra speed in the car and the set up for Race 1! And boy did we have speed out the blocks 21st to 13th in 2 laps and then a collision brought us to and end with the car having a grass fire!Race 2 we struggled for speed after a collision in race 1, set up wasn't correct however in Race 3 we had the set up right and had speed. We were 3rd overall fastest, which shows a huge improvement in race pace and a nice result of p9. Overall we had another big step forward in lots of ways at Oulton park, you only have to watch the races on ITV to see how far we've come since the opening round at Donnington Park."
For photos from the weekend please contact Dani@powermaxedracing.com