PMR are delighted to announce Chris Wallis returns to TCR- UK Championship.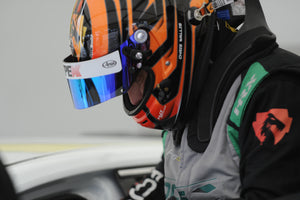 PMR are delighted to announce Chris Wallis returns to TCR- UK Championship.
Power Maxed Racing are delighted to confirm Chris Wallis will return to the 2022 TCR-UK Championship with the team.
Working together for 3 consecutive years now, first in Focus cup back in 2020 and now starting the second year collaborating in TCR-UK Championship.
Wallis has an impressive racing history including Formula Ford, Vauxhall Lotus from his earlier years as a racing driver and he is no stranger to the podium, PMR have no doubt there will be a few visits this year to collect the silverware and bubbles.
After the unfortunate year last year, both PMR and Wallis have worked hard over the winter months on making 2022 a great year with a rebuild of the Hyundai.
Chris is the second driver to be announced with the PMR team, Joyce and Wallis make a great pair and as a team, this duo will create spectacular racing and great results for Power Maxed Racing.
Martin Broadhurst, Team Manager;
As a team we are over the moon to be working with Chris again, his experience and energy within the garage is second to none. PMR have worked hard to deliver the car Wallis deserves and this year will be the positive turnout we were all hoping for last year.
Chris Wallis;
Having returned to racing in 2020 driving the Power Maxed Focus, it was great to agree a continued association with the team for 2021 in the VW Cup and TCR UK Championship. Unfortunately, due to a big accident half way through the season, plans changed, and I began looking to build a program for 2022 in TCR UK. For me, the team and team mate relationship is really important, and I feel fortunate to be part of the PMR brand again for this season. Their professionalism and ability cannot be questioned, and I have no doubt will provide me with a car that is capable of delivering good results.
The 2022 TCR UK series is going to be an impressive championship and with the support of 'George Boyd Commercial Doorsets', and my own 'Focus Brand' I'm looking forward to the challenges that it will bring. I will have to dig deep I'm sure, but I am confident that I have the support, and right people around me to deliver the best I can.