Setbacks at Silverstone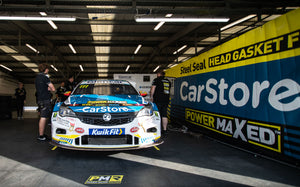 Setbacks at Silverstone
The team were excited arriving at Silverstone with it being the first visit this season and knowing how well we are capable of doing here. Also buoyed by the knowledge of improvements we had made between rounds with a promising test the week before at Donington with the weather on our side we were hopeful of a great weekend.  
With our first few practice sessions showing promise yet again we were confident of a good qualifying result however with previous experience showing just how much the other engine cars can improve come qualifying there was still a touch of apprehension in the team.  
As qualification got underway our fears were realised with us not managing to string all three sectors together at once, our theoretical bests would put us near the top of the times, but with various hinderances around the lap and a lack of a tow at times meant we could never get all our best sectors done on the same lap. 
Arriving at a silent Silverstone circuit on Sunday we had the feelings we have had all to many times this season, knowing that we would be in for a tough day of racing making our way through the grid from our qualifying positions of 15th and 20th. 
With our guests welcomed and Drivers Q&A done it was time to line up for race 1 of the day but not before a tribute to our late Queen and the national anthem to welcome in our new King. 
With lights out the action frantically unfolded with both Ash and Creesy having to avoid incidents and coming out relatively unscathed, this time around anyway. 
The 97 Car of Ash Hand being used unjustifiably as brakes my not one but two other drivers with the second contact ending his first race prematurely by braking a tow link and beaching him in the gravel at turn 1 – very disappointing as he had showed such pace and gained a lot of positions in a few short laps as minor consolation the Driver causing this incident received an official reprimand.  
Creesy having dropped a few positions from his starting position due to hybrid deployment not working until after a re-set during the safety car period, with it back he battled his way back up the field quickly gaining 5 positions before the finish eventually finishing in a respectable 16th narrowly missing out on points. 
After an epic effort by the CarStore Power Maxed Racing crew retrieving Hand's car and fixing the damage caused in race 1 we lined up on the grid again for race 2.  
Ash fighting hard from his start position at the back of the grid due to his DNF in race 1 managed to bring the car home in 21st, and Creesy in 19th. With an engine remap between race 1 and 2 its believed that due to an error we were significantly down on power.  
Race 3 didn't improve our day with Ash finishing in the Gravel on lap 4 narrowly and very skilfully missing a parked BMW on circuit avoiding what would have been a horrible accident and Michael Crees bringing his car home in 20th. 
Adam Weaver
CarStore Power Maxed Racing Team Principal commented "A much tougher weekend on the whole. It was nice however to see so many fans turn out and to have our hospitality packed with guests. As always we showed our pace on Sunday but just did not manage to turn it in to results. It may not look like it but we are making progress! 
The issues we have suffered this year due to engine and hybrid not deploying has prevented us from showing just how good our Vauxhall chassis and drivers are. I'm still confident of that elusive podium before the season end with us going in to the final round at Brands Hatch in 2 weeks time.  
Michael Crees 
A tough weekend, not what we had planned and certainly not what we hoped for, im surrounded by great people and we will keep working until we get the results we all want 
Ash Hand 
From the moment we left the pits for FP1 we had great pace, unfortunately we didn't get a slip stream in qualifying which cost us a top 5 and things went from bad to worse we didn't start race one on the grid we went from the pit lane still we had great pace but ended up in the gravel! Race two we had a hangover from not getting chance to chance the set up of the car and a problem with our engine mapping. Race three we had great pace up 5 places on lap one only to end up finishing the weekend in the gravel! The overall view of the weekend great driving, great speed but no luck. 
Martin Broadhurst 
We didn't quite achieve the qualifying positions we were looking for on Saturday meaning we would start the first race on Sunday down the order. Unfortunately for Ash the weekend would unfold on the start line for race 1 with a Hybrid failure meaning the car would not start at the 1 minute board, this meant he was pushed into the pitlane where the team could reset the car and then join the race from the pitlane, after making up several positions the race was ended in the gravel from contact with another car.  
As always the team have worked relentlessly to keep the cars prepared and ready for each session on time no matter the level of damage, so I'd like to say a thank you to everybody involved in making it happen including the hospitality team and those back at base.