Watch BTCC legends relive iconic spats during live podcast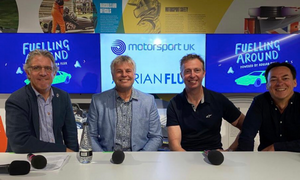 Jason Plato, Matt Neal and Tim Harvey have lifted the lid on some of the BTCC's most iconic rivalries during a hilarious live recording of a popular motoring podcast.
The legendary trio joined Plato's Fuelling Around co-host Dave Vitty on stage at Motorsport UK's new Bicester HQ to talk all things automotive in front of an exclusive audience.
And discussion inevitably centred around infamous British Touring Car Championship spats like the one during qualifying at Rockingham in 2011 when Neal and the Fifth Gear co-presenter almost came to blows.
"I was going 'hit me, hit me' because I knew if he did he'd be in a right load of trouble," said Plato who is currently embarking on a third series of the award-winning podcast powered by insurance broker Adrian Flux.
"Both Matt and myself realised that, until it boiled over, the rivalry was good for us. We were the focal point of the championship and we kind of juiced it up a little bit. Alan Gow (BTCC chief executive) called us in and said; 'Look guys, can you cool it down a bit?' and we looked at him and were like 'what, this is great surely?'"
The 54-year-old, who finished 14th in the 2021 standings with Power Maxed Racing, admits "not being at the sharp end of the track together scrapping it out" has allowed the pair's feud to simmer down over recent years.
Neal sat out this season but insists he'd learned to trust Plato on the tarmac while conceding he wasn't the only driver he's had issues with over the years.
The Team Dynamics mentor said: "Me and you have been highlighted but I fell out with loads of other people as well.
"Reidy (Anthony Reid), Jimmy (James Thompson), Yvan (Muller), Alain (Menu) - pretty much everyone. I was goading Reidy to hit me on one of the podiums one day as I knew I was trying to get him in trouble by pushing the right buttons.
"We (Jason and I) go about things in a different way but we're very similar. We're both quite mischievous so he would do something to me just to get under my skin because he thought it was funny and obviously I'd take it the wrong way. A month later I'd see an opportunity and I'd do something to him which I thought was hilarious to get under his skin and he'd get the ache about it which I thought was brilliant. This sort of snowballed until it got a little bit out of control."
Harvey, a popular part of ITV's BTCC coverage, shared his own thoughts on the duo's long-standing feud and revealed why he was hailed "a smiling assassin" for his role in some memorable moments from yesteryear.
He added: "You don't want to really like the person you're racing with. Away from it all we all can get on. I used to have this love - no hate, hate relationship - with John Cleland - I still have. You two guys were naturally together on track a lot, you were very close rivals and it's almost impossible to be mates at that point so it didn't come as a surprise. A lot of it comes from passion, emotion and that heat of the moment. It's not a long-lasting thing."
The threesome and Vitty had the crowd in stitches with other tales from the grid as well as their driving experiences on the roads of Britain - which included Neal taking about having seven accidents in a week as a young driver!
You can watch the live recording of the episode here or enjoy listening to the start of the third series that saw The Chase's Bradley Walsh become the pod's latest big-name celebrity guest.