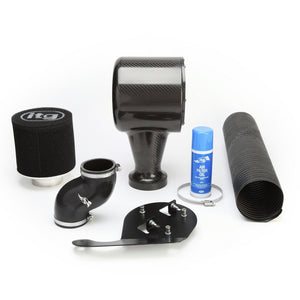 ITG are able to develop and manufacture fully enclosed air intake systems for some of todays more popular cars, all within the UK.
ITG fully road test all prototypes to prove their durability and performance, and each kit is tested on the rolling road to fully enhance it's capabilities for that particular car. This means they are able to offer power and torque graphs for each kit we supply.
Most kits come with a carbon fibre housing but in some cases we can offer an aluminium version of the airbox. Each silicon hose is designed and made for each specific application. All aluminium parts are anodised and they supply stainless steel or plated screws, nuts and washers to fully enhance the appearance and durability of each kit.
Please contact us to see if ITG manufacture a kit for your car, and for pricing and availability.